Brazil's 1964 Coup: What 'Communist Conspiracy'?

President Janio Quadros with Fidel Castro in Cuba in 1960, and giving Che Guevara a medal in 1961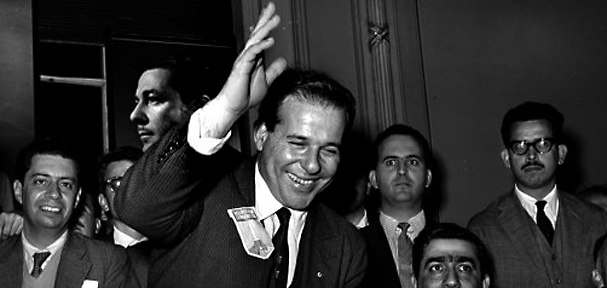 In 1961, Vice President Joao "Jango" Goulart accepts the presidency after Janio Quadros resigns
To help build popular support for his "grassroots reforms," which also included a modest land reform proposal and an educational program that would seriously attack illiteracy on the model created by the legendary theorist Paulo Freire, Jango called for a mass rally in downtown Rio on March 13, 1964, attended by tens of thousands. His hard right opponents trumped his demonstration several days later in Sao Paulo with an even more massive demonstration, the March of Families for God and Freedom, a formula which made no attempt to hide its fascistic sneer.
But the contest was never between the Marxist Left and the Right. It was between a centrist reformer who had a vision of gradually developing a Brazilian capitalist economy where the policies he encouraged would, among other objectives, build a stronger internal market, and the internationalists who would happily sell their country's labor and resource to the highest bidder, so long as their own profits were high and nothing was done to endanger their spectacular privileges. Jango wanted to turn more Brazilians into consumers. Under the Pax Americana, this was not an option, though, as rebellion, it was clearly leagues from Jango's alleged communist conspiracy. After World War II, capitalism went international, and the game afoot saw the economic shots for the third, or "developing" world, being called by Wall Street and in Washington, delegating the tasks of policing development to new financial global overseers like the World Bank and the International Monetary Fund.
Much is therefore made of the U.S. involvement in the '64 Brazilian coup. Trust me, Brother Sam, as the covert operation in waiting was termed, was there to help if needed and called upon. This proved not to be necessary. The foundation of the coup assembled with ample guidance and funding from friendly sources had been firmly set in place over the previous few years. That Tom Dooley character in Vitoria? He was strictly a cover operation. The real show involved "integrating the various social movements of the right to create bases of operation that could prevent the spread of Soviet-style communism in the West." This was not a task assigned to the peasants.