Brazil's 1964 Coup: What 'Communist Conspiracy'?
Preparations for the coup were carried out through newly established instruments like IPES, Instituto de Pesquisas e Estudos Sociais - call it the Social Research Institute – and IBAD, Instituto Brasileira de Acao Democratica - The Brazilian Institute for Democratic Action. These entities were created to coordinate action from the right against Goulart and his allies. It's not hard to believe, as is widely alleged today in Brazil, that the generous war chest of several million dollars these groups possessed – big bucks in those days – somehow bore the fingerprints of U.S. agents and businessmen. I myself was much surprised to learn from my contact on the Rio Truth Commission that it was the conservative elites, and not the communist Left, who had stockpiled the arms they calculated would be needed if the attempt against Goulart led to a civil war.
The night of the coup, Goulart found it difficult to find a jet to carry him safely south to his native state of Rio Grande do Sul. He ended up on a small two engine plane. Watching the dust settle in Rio and the rapid consolidation of power by the armed forces, utterly unopposed and indeed welcomed with all but universal acclaim across the establishment political spectrum, the Congress and the courts, in essence everyone who partook of the country's sanctioned political life, Jango slipped quietly into Uruguay, later Argentina, and the exile from which he would never return. It has long been rumored that Jango was assassinated in late 1976 by means of poison. At the end of this month, April 2014, an analysis of his exhumed remains will be made public, and the plot long alleged will be confirmed or dismissed, or just as likely, left hanging in the air.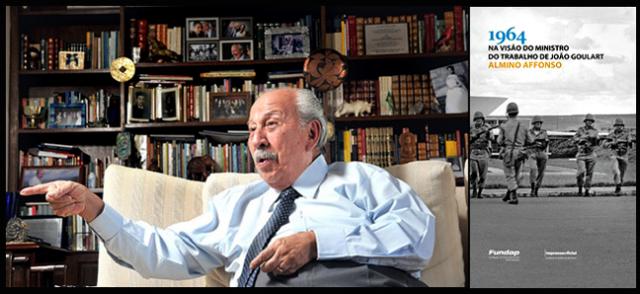 Almino Affonso, minister of labor under President Goulart, today, with the cover of his book on the coup
In the stream of newspaper retrospectives about the coup, there was an interview with Almino Affonso, Minister of Labor under Jango. Affonso begins by posing a rhetorical question. Was his boss, Jango, really in the process of preparing a communist coup as his adversaries were loudly proclaiming? Affonso then ticks off the names of ministers in Jango's cabinet, adding something of each man's political and social pedigree. Which of them, he wonders aloud, could be said to have had the profile of a communist conspirator? You can almost sense former Minister Affonso shaking his head in existential disbelief as he delivers his punch line: "The falsification is truly breathtaking." At the time of the coup, public opinion favored Jango's proposed reforms by a whopping 72 percent. But this was not a mass base that could be mobilized to save him.