Department of Homeland Security Brands ThisCantBeHappening! a 'Threat'
Disturbing news, but our proudest moment: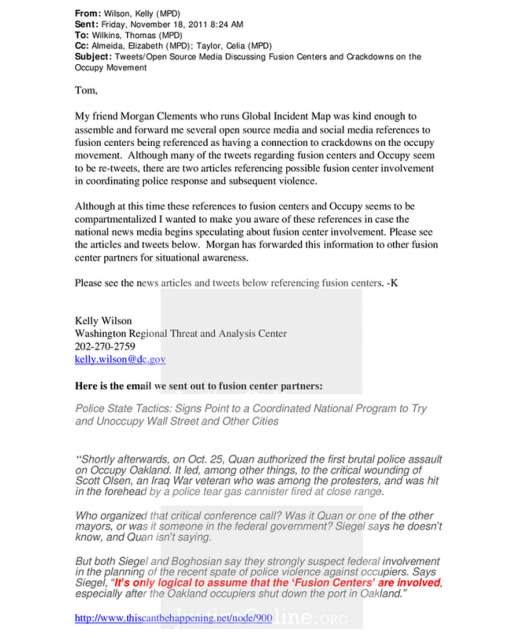 Homeland Security Fusion Center alert sent to all Fusion Centers by DC Office of Threat Assessment concerning ThisCantBeHappening! (click on image to go to original image at the Partnership for Civil Justice, which obtained the memo through the Freedom of Information Act)

We can see then that the exposing of a federal role in the brutal crushing of the peaceful and Constitutionally-protected Occupy Movement nationally, or even suggesting such a thing, in today's America, is now considered to be a "threat" by the Department of Homeland Security and its Fusion Centers -- both organizations that were specifically created not to monitor the media but to root out and "defend" the country from terrorism. The threat in our case is not that we are planning a bombing or some other kind of mayhem. Rather, what alarms the DHS and the "threat assessors" in the Fusion Centers is that ThisCantBeHappening!'s investigative reporting might eventually lead to the news about the Fusion Centers' role in crushing Occupy breaking out of the "compartmentalized" alternative media and into the national news media, which then might "begin speculating about fusion center involvement." (It seems self-evident that if the Fusion Centers had not been involved in orchestrating the Occupy crackdown, they wouldn't have been worried at all about some small alternative news outfit like ours, or even the mainstream media, "speculating" about such a role, ergo this fear of exposure amounts to a full admission that the DHS and its Fusion Centers stand guilty as charged.)
While this document and the mentality it represents are deeply disturbing, ThisCantBeHappening! is at the same time proud to be recognized by the Washington intelligence nexus as posing that kind of threat to the emerging United States police state, of which the DHS and its Fusion Centers are a critical element.
Sadly though, although our article and the November 18 alert citing it sent out by Wilson ran in late 2011, it wasn't until this month that the New York Times finally wrote about the Fusion Center role, using this and other documents obtained by the Partnership for Civil Justice Fund (PCJ), a Washington-based public interest legal organization focused on federal violations of the First and Fourth Amendments. And even then, the Times buried its story of Fusion Center involvement in the national crackdown on Occupy in its inside pages, rather than playing it where it belonged on the front page. The paper also made light of the Fusion Center effort, focusing on some of its sillier concerns, such as the overwrought government monitoring of an Occupy Movement call for a boycott of the retail industry's Black Friday sale weekend.