Who Cares About Democratic Primary Results in South Carolina -- a State Democrats Will Lose in November?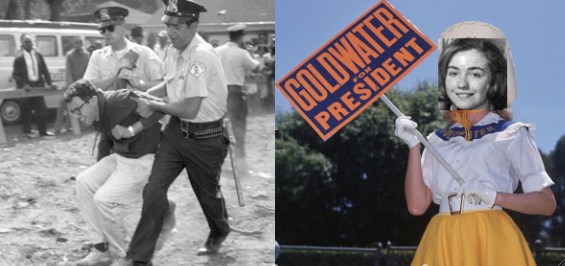 In '63, Bernie Sanders was busted for leading a protest against Chicago U's segregated housing, in '64 Hillary Rodham Clinton was a 'Goldwater Girl' (while Clinton admits to this, there are no extant photos of her dressed as one, so we composed one here)

Over and over, black voters in South Carolina are telling pollsters that even though they may not trust Hillary Clinton, even though they know she and husband Bill passed legislation that hurt black people, like such incarceration policies as mandatory sentencing guidelines, an end to critical welfare programs, and cuts in other benefits, they'll vote for her. Even even though they may be impressed with Bernie Sanders' record of support for civil rights and poverty relief dating back to when he was a college student in the early 1960s (at a time when Hillary Clinton was working for arch-right-winger and Civil Rights Act opponent Barry Goldwater), they say they'll vote for her. Why? They say they think she has a better chance of defeating whoever will become the Republican presidential candidate this November.
~~~~~~~~~~~~~~~~~~~~~~~~~~~~~~~~~~~~~~~~~~~~~~~~~~~~~~~~~~~~~~
Some disturbing facts about race realities in South Carolina:
* The wage gap between black women and white men in the state is the fourth worst in the nation, with only Louisiana, Mississippi and Alabama worse. South Carolina's black women earn 58 cents versus $1 dollar for white men.
* As of the first quarter of 2015, when the official national unemployment was 5.5%, it was 4.1% for whites and $10.1% for blacks. But in South Carolina, where the national rate was 6.6%, it was 4.6% for whites and 11.8% for blacks.
* In the five years 2010-15, South Carolina police shot 209 people. Though the population of the state is just 28% black, 100 of those shot were black, of whom 34 died. Police shot 64 whites over the same period, of whom 41 died. The remaining 5 shooting victims were of other non-white races, 4 of whom died. Only nine officers were prosecuted for shooting someone, and none were convicted.

~~~~~~~~~~~~~~~~~~~~~~~~~~~~~~~~~~~~~~~~~~~~~~~~~~~~~~~~~~~~~~