Youth Violence Solution? Authorities Should Stop Ignoring Activists
Investigators often cite youth unemployment as a major factor underlying the August 2011 riots that rocked London and nearly a dozen other cities around England. That outburst followed the fatal police shooting of a young black man in the impoverished Tottenham section of North London.
The 2012 report from North London Citizens, an alliance of 40 civic institutions in the Tottenham area, found that 53.1 percent of the 700 people interviewed listed unemployment as the "key cause" of rioting in Tottenham. Another "major cause" of the rioting was poverty, according to 32.9 percent of those respondents.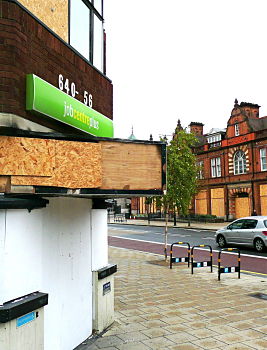 Government building torched during 2011 riot -Many viewed 2011 as a rebellion against oppressive government policies

An investigation into the 2011 riots by London's Guardian newspaper in collaboration with the Social Policy Department of the London School of Economics found that 79 percent of the riot participants listed unemployment as a riot cause and 86 percent listed poverty as a cause.
While top officials of Britain's national government and much of British media cited greed as the main motivation of rioters (many of whom engaged in looting) riot participants interviewed during the Guardian/LSE investigation listed greed below seven other factors that included policing, government policy and the fatal shooting of Mark Duggan, along with poverty and unemployment.
An inquiry into the 2011 riots commissioned by the British government also listed unemployment and poverty as underlying issues. But the government's written response to its own inquiry declared: "It is not acceptable that poverty, race and the challenging economy were used as excuses for the appalling behavior we saw on our streets in August 2011."
Dr. Jacob Whittingham, who operates a youth program in London that emphasizes education and entrepreneurship, said Britain's national government, after the 2011 riots, seemingly focused on stiff imprisonment for rioters and budget cuts, including funding reductions for youth programs.
"Basically people give lip service. There was no attempt by the central government to understand why the riots happened," Whittingham said. "There was no urgency to do something because people don't listen."
In 1985, an earlier riot seared Tottenham after the death of a woman during a police raid. The governmental inquiry into that earlier riot criticized unemployment and poverty in Tottenham along with abusive policing -– the same elements that drove the 2011 outburst that spread across England.
According to the 1986 report of the "Broadwater Farm Inquiry," unemployment for "young Black men was a terrible 83%." Over 90% of Tottenham adults interviewed during that inquiry saw "unemployment as a big problem."
Veteran Tottenham rights activist Stafford Scott said the recalcitrance in Britain to earnestly addressing unemployment and poverty among non-whites is rooted in racism. That Broadwater report from three decades ago cites testimony Scott gave to the inquiry.