Ban Assault Weapons, But for Police Too, Not Just Civilians
A few years ago, I contacted my local police department asking them to send an officer over to put down a doe that had been hit by a car on the street in front of my house. She had suffered a left front and right rear leg break but had somehow flopped herself well into the yard and was on the ground suffering. When a cop arrived, and began to approach her with his pistol I warned him off, saying the deer would hurt herself more trying to get away.
"Oh," he replied. "Okay, I'll get a rifle." He returned to his SUV, and pulled out, to my astonishment, an AR-4, a military-style assault rifle, which he then used to shoot the deer with a clean shot between the eyes.
When I asked him about having that weapon available in his patrol vehicle, he replied matter-of-factly that all police in almost all departments in the country have them readily available.
Now for the record, I live in a suburban community where the only crimes we have are fights in or outside of bars, and the occasional breaking-and-entering burglary. Yet when a friend of mine whose late brother, a Vietnam veteran with serious PTSD mental issues and drug problems, while visiting his home here, called 911 and said he was going to kill himself with a pistol, my friend came home to find his house blocked off by a swarm of police vehicles, and surrounded by cops armed with assault rifles, and with snipers in position in four spots around the home. Informing the police that he had already removed the bullets and magazine from his brother's licensed pistol, and that as well his disabled, wheelchair-bound wife was inside that home, he convinced them to allow him to enter the home and bring out his brother out with him, and the incident ended peacefully.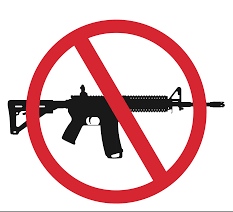 Get assault rifles out of the hands of the public...and of the police

But it demonstrates to me that this country's police have completely lost any sense that they are supposed to be "peace officers," as we once called them (when's the last time you've heard that old-fashioned term?).