On Killers and Bullshitters*
In search of Trumpian reality
* NOTE: The term bullshit is used here in the sense established by Harvard philosophy professor Harry Frankfurt in his little gem of a book titled On Bullshit, which opens with: "One of the most salient features of our culture is that there is so much bullshit."

We're living in a very weird and convoluted moment in the annals of truth and bullshit. For some reason Americans saddled themselves with a rich and obnoxious reality TV star significantly unmoored from reality. A George W. Bush aide famously told a reporter: We're an empire now and we make our own reality. Maybe it's an axiom of our age: The wealthy and powerful have the right to make their own reality. As for the poor and the powerless, the same condition of being unmoored from reality is generally linked with what we call "mental illness," which leads to marginalization, institutionalization or incarceration.
The same corrupt double standard works in the realm of violence. I've been writing for decades about the killing our government has officially undertaken in places like Vietnam and Iraq and in smaller venues. I've always liked the bumper sticker that says: Kill One Person It's Murder; Kill 100,000 It's Foreign Policy. In my thinking, it isn't a joke; it's more like the Rules Of Engagement.
For me, the exemplary culprit in this equation is Henry Kissinger and the cold-blooded slaughter of millions of Vietnamese in a war that really makes no sense at all. (I challenge anyone to tell me what the Vietnamese ever did to us other than work as our ally against the Japanese in World War Two.) The most truthful narrative is that the Vietnamese were betrayed and attacked by the United States, one, to support French re-colonization after WWII, and, two, because US leaders felt compelled to dominate the wrecked post-WWII world. To recognize Vietnamese nationalism and the Vietnamese urge for freedom was too complicated for our fearful and reductive Cold War mindset. Rich and powerful, we ended up killing millions of Vietnamese in an ultimately failed effort to impose our reality -- although in the end the Vietnamese developed excellent capitalistic instincts.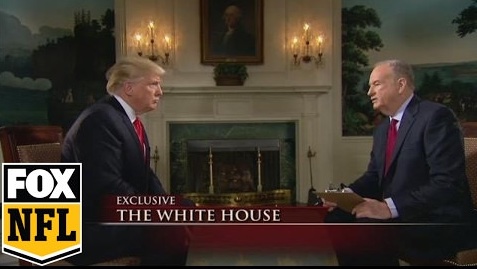 President Trump and Bill O'Reilly before the Super Bowl talking about killers in the US government

In a very weird turn of events, our new president seems to agree with the idea that killing is very American and that there are killers in our government. President Trump revealed this in an interview with his old pal Bill O'Reilly. The interview was appropriately run just before the Super Bowl, our culture's pre-eminent gladiatorial extravaganza, an annual event of such masculine escapist power that it defines Bread & Circus for our media-addled, couch-potato age. Here's O'Reilly and Trump:
O'Reilly: "Do you respect Putin?"
Trump: "I do respect him."
O'Reilly: "Do you!? Why?"