Trump in No Hurry to Staff 'Enemy of the People' Offices
Hostility towards media or just administrative chaos?:
(This article was written on assignment for Fairness and Accuracy in Reporting (FAIR) and was published on March 21 at www.FAIR.org

The New York Times on March 12 reported that the Trump administration, for a variety of reasons, was filling the offices of administrative agencies at a glacial pace. From the Department of Agriculture to the Weather Service, over 2,000 mid-level political-appointee positions were still unfilled; the Times called it "the slowest transition in decades."
One place that slowness has showed up clearly is in the staffing of what are variously called Public Affairs offices, Newsrooms or Media Offices of these government departments and agencies—the very offices that reporters in both Washington bureaus and in newsrooms around the country depend on to get routine information about what these departments and agencies are doing, or, in the case of more investigative assignments, to ask basic questions and set up interviews with key personnel...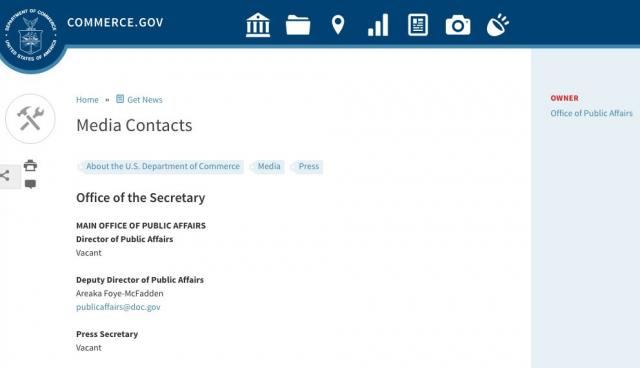 Image of the 'Media Contacts' page of the Trump Administration Commerce Department on March 22 over two months into Trump's presidency

For the rest of this article, please go to: FAIR.org