This Is Not Fake News: President Trump Is A Bigot!
Whitewashing Racism Again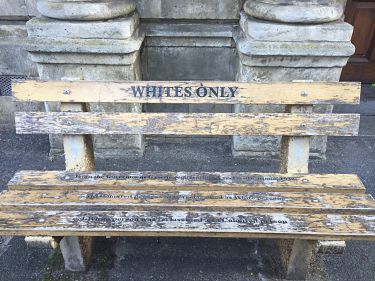 Bench on porch at the White House of Donald Trump? No. Apartheid-era artifact in Cape Town, South Africa. LBWPhoto

U.S. President Donald Trump is a bigot – 'bigley' – to use a word that he's used frequently!
Trump is a bigot as defined as someone who doesn't tolerate people of different races or religions!
But as despicable as Trump's bigotry is, it is not the big problem driving America's problem of deep-seated racism.
Trump's bigotry is rightly being bashed in the wake of the President's failure to quickly and forcefully condemn the Nazi-praising white nationalists responsible for the riotous violence that erupted recently in Charlottesville, Va, violence that produced one death and many injuries.
Those proudly prejudiced white supremacists that descended on Charlottesville for odious domestic terrorism proclaimed themselves as fervent supporters of businessman-turned-president Trump.
"Trump's run for office electrified the radical right, which saw in him a champion of the idea that America is fundamentally a white man's country," stated a report issued earlier this year by the Southern Poverty Law Center (SPLC), an organization that monitors hate groups in America.
In the weeks after Trump's November 2016 election the SPLC documented 1,094 hate incidents. "The hate was clearly tied directly to Trump's victory," stated a December 2016 SPLC report.
Remember, Trump is the guy who installed a leading advocate of white nationalism (Steve Bannon) as his chief strategist in the White House.
Also, Trump is the guy who shortly after his formal inauguration announced a ban on Muslim immigrants, ramped up deportations that targeted Hispanics and deemphasized federal enforcement of civil rights and voting rights laws – policy positions that won applause from white nationalists and political conservatives.
Trump, months ago, ordered the Department of Homeland Security to sharply scale back its monitoring of white hate groups in America. Trump issued this order despite that fact that numerous studies have documented that white hate groups were responsible for double the amount of domestic terrorism from property destruction to deaths between 2008 and 2016 than incidents attributable to the 'radical Islamic terrorism' that Trump rails against incessantly.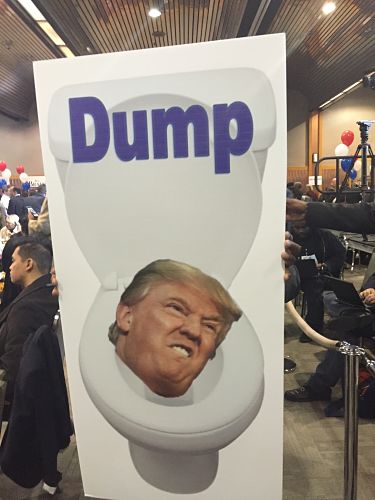 Trump: Divider Not Unifer? - LBWPhoto

Shockingly, white hate groups have specifically targeted law enforcement from police to prosecutors to prison authorities. While that targeting makes white hate groups both terrorists and traitors apparently that violence directed at law enforcers is not an issue of import for President Trump…who has castigated anti-police-abuse groups like the Black Lives Matters movement.