The Virtues of Tearing Down Statues Depends on Where They are Standing
Remembering history's good; celebrating it, not so much
I was a Fulbright professor of journalism in 1991, posted for a year in the Graduate School of Journalism at China's prestigious Fudan University in Shanghai.
Over the year I made many friends among the faculty and especially among my graduate students, many of whom had been democracy activists, either in Beijing or in Shanghai, during the events of the Tiananmen occupation and eventual crushing of that movement. during 1989, two years before my arrival.
At the time I was in China, there were very few statues of Mao Zedong, the celebrated leader of the victorious Chinese Communist revolution. Because of the horrors of the Cultural Revolution and earlier anti-rightist campaigns he had orchestrated, his reputation had understandably and deservedly suffered badly.
As a result, while Mao statues had been ubiquitous all over China only a decade earlier, by the time I arrived (20 years after having graduated with a degree in Chinese language and plans to go to China to witness and write about the "glories" of the Cultural Revolution), I found in Shanghai only two remaining statues of the Chairman -- one inside the entrance gate to Tongji University, a technical school, and one inside the front gate of Fudan University.
The Tongji statue featured a younger Mao posed in a romantic stance waiving to his people. The Fudan statue had a more forbidding stance, quite tall, representing the chairman in his formal Mao suit, feet together, and arms clasped behind his back, looking sternly down at the viewer. The statue had been designed to look even bigger and more imposing than it was by the enlargement of the feet and the bottom of the legs (much like an R Crumb cartoon), with the body shrinking to a much too small head at the top to give the illusion of height.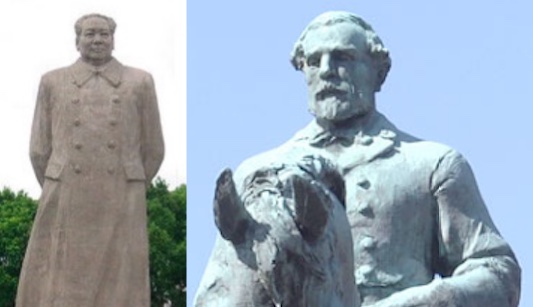 Mao Zedong and Robert E Lee: Do we need to see their statues every day in the public square?

I asked a friend, a Fudan professor who had lived through the anti-rightist campaign of the '50s as well as the Cultural Revolution, why those two statues had been left standing, while all the others seemed to have been eliminated in Shanghai and most of China.
He smiled wanly and said, using a very Chinese turn of phrase, "They left the statues so we would never forget...and so that we would never forget."
I puzzled over his words for a moment and then I got it. He meant that the Party officials who run the two universities, which had been hotbeds of rebellion in 1989 and of democracy activism in earlier years, wanted their faculties and students both to remember the excesses of Mao's Cultural Revolution (by then Mao was a very controversial figure among the Chinese people, revered as almost a god by some, and reviled by others), and also to remember what can happen to those who stand against the Chinese state and the absolute authority of the Communist Party.