Hack of 143 million Social Security Numbers is Really About Our Insecurity and Fear
SSNs should be for Social Security's use, and nobody else
The epic breach of data, including 143 million Americans' Social Security numbers, at Equifax, a private credit company that answers to nobody and that gathers information about anybody who spends money or borrows it, whether they like it or not, is causing heart palpitations across the nation.
The New York Times reports that Equifax has been deluged with requests to have their credit information "frozen" so it cannot be accessed by anybody, including lenders. But they cannot do it: it turns out that the Equifax online and phonebank system for dealing with such requests have both become "frozen" themselves and are useless. A snarky Times consumer columnist wonders whether this is because of the crush of calls or is because Equifax simply doesn't want to lose to many credit reports -- the basis for its ability to charge lenders for its credit rating services. He has a point.
No surprise that people are desperately trying to shut their credit reports off. People who live on credit and who have little in their bank accounts, are terrified that hackers will now steal their identities, borrow vast sums in their names, or hack into their retirement accounts and pensions and savings accounts and siphon off what's in them.
But this very fear that wells up in the hearts of the American bourgeoisie is the reason this is all happening.
83 years ago, the Social Security system was established, and everyone who registered received a nine-digit number -- the number of an account into which people paid taxes which, over a lifetime of work, were used to calculate a benefit amount to be paid monthly for life from retirement age until you died, providing everyone with a modicum of financial security.
Originally there were laws that made it illegal for anyone to require a person to provide that number, but then, fear led us to start requiring that the once inviolate Social Security Number be used for many purposes. Gradually, imperceptibly first, the number began to be required, first on income tax forms, then on bank accounts and credit card applications, and finally on just about everything. Today, you can't get a driver's license without showing a Social Security card. You need to show it to get a car loan or a mortgage. Immigration police can demand one "to prove you are a citizen." Apartment owners ask for the number when you sign a lease. Hospitals and doctors require it, since unless you never worked, your Medicare number is the same as your Social Security number.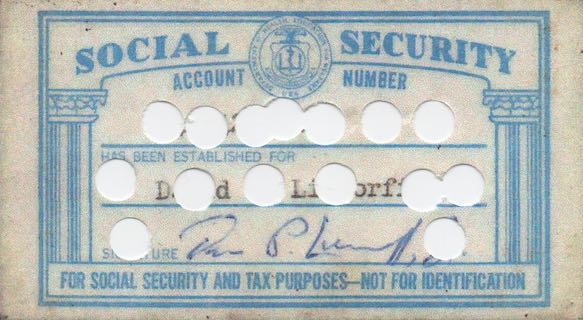 There are so many holes in the security of your Social Security number, the word "security" is really a joke

Many places ask for the "last four numbers" of your card as a kind of ID, but actually the rest of your number is a code that can be reconstructed, given enough information about your background, at least before 2011, when the agency began generating random numbers for new registrants.