The Vietnam War As Public Spectacle
Bottom-up Collective Drama or Top-Down Atrocity?

The spectacle of warfare, whether by intermittently shocking its public or inuring it to the horrors of combat, serves to normalize a permanent war economy and to make peace an anomaly.
                                                                                                            Jan Mieszkowski, Watching War

I wasn't sure what hat I should wear watching the Ken Burns and Lynn Novick PBS documentary The Vietnam War: An Intimate History. Should I be a professional Vietnam veteran, something I have stooped to? Or should I be a journalist, a fiction writer or a documentary filmmaker? I've done all these things. Maybe I should be an anti-war activist, something I've done (some say badly) for over 30 years? I've worn all these hats in the context of the Vietnam War. In the end, identity is a fluid and willful thing selectively mined from experience; like everyone else, I'm a human being doomed to live in ever-changing contexts. Holding on to the past is a trap.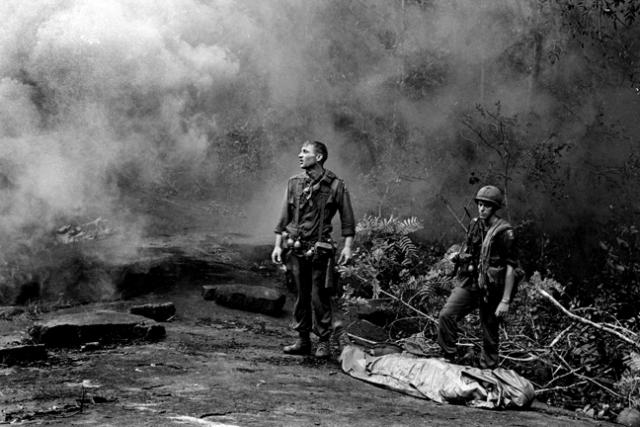 One of the many images from Vietnam used to tell stories in the film
Like Magritte's famous painting of a pipe titled "This is not a pipe," the Burns/Novick film is not "Vietnam" -- it's a TV drama. Questions about historic accuracy and political bias will likely always haunt it. It's sophisticated cinematic production values and the story-telling questions they raise are important. In one sense, it's a classic PBS documentary. But, then, it's breaking some kind of ground in its mode of telling. If there's a continuum between fiction and non-fiction, this film is somewhere in the middle; let's call it a hybrid -- in a no-man's-land or DMZ between fiction and non-fiction. For any work of representational art, constructing a clean narrative from the chaos of life means leaving things out. That's how narrative is refined and distilled. It also opens such a project to criticism from many angles. The use of metaphor and symbol are tools in the process of making sense out of the unfamiliar and the confusing. Without the essential reductiveness, art would be like that Borges story where the map of a country is a 1:1 ratio to reality -- exactly the same size as the country itself.