Why Hasn't Trump Ordered the Military to Puerto Rico?
This article was written on assignment for Salon.com magazine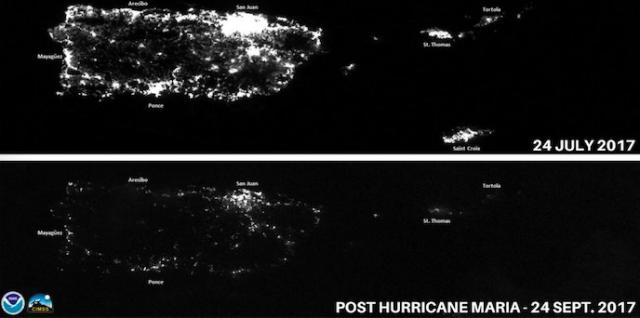 Night satellite images of the island of Puerto Rico taken before and after it was hit by two major hurricanes

It's been a week since Puerto Rico, the American-owned island colony of 3.4 million, was destroyed by the second of two Category 5 hurricanes that struck it within a brief two-week period earlier this month.
Yet as of today, although virtually all the island's local farms were destroyed by Hurricane Maria, its electric grid almost totally taken down, its cellular phone system destroyed, its water and sewer systems rendered inoperable and its roads made impassable, and although lack of communications and ability to travel has meant that the fate of millions in the island's hinterlands and mountains is still unknown to family and friends in San Juan and on the US mainland, the US government in Washington has done almost nothing concrete to bring real, desperately needed help or even food and medicine to the island.
This stands in stark contrast to the aid Washington rushed immediately to Houston and to southern Florida in the wake of Hurricanes Harvey and Irma.
President Trump has cited the island's technical insolvency (its economy was crushed by the Fiscal Crisis that began in 2008 and by the ensuing Great Recession and its government and various public agencies have been unable to make payments on over $72 billion in bond debt), as being the people's and their government's fault. But Puerto Rico, as a colony subject to the rule of Congress and to US federal courts, is not permitted the same recourse of entering into bankruptcy and renegotiating its debt as public agencies and municipalities in the US can do.
Trump alluded to that debt in an incredibly insensitive comment, tweeting: "Texas & Florida are doing great but Puerto Rico, which was already suffering from broken infrastructure & massive debt, is in deep trouble."
He has also blamed the significant lack of aid coming from the US on Puerto Rico's being an island. As the president put it in a Tuesday tweet: "This is an island sitting in the middle of an ocean. And it's a big ocean; it's a very big ocean. And we're doing a really good job."