Philly Ceremony: Another History Lesson Trump Will Ignore

The historic ceremony outside City Hall in Philadelphia recently, that unveiled a statue of a significant yet overlooked 19th Century civil rights leader, contained chilling contemporary connections that radiate the adage: the more things change the more they stay the same.
That ceremony honored the works of Octavius V. Catto, an activist, educator and officer in the Union Army during the Civil War. Several hundred attended the ceremony including Philadelphia's mayor, decedents of Catto, local celebrities and regular citizens from children to senior citizens.
The Catto statue, the centerpiece of a memorial installation for that man located on the south side of City Hall, is the first ever monument for an African-American individual located on city owned property in Philadelphia, a 335-years-old city with 1,200 public statues.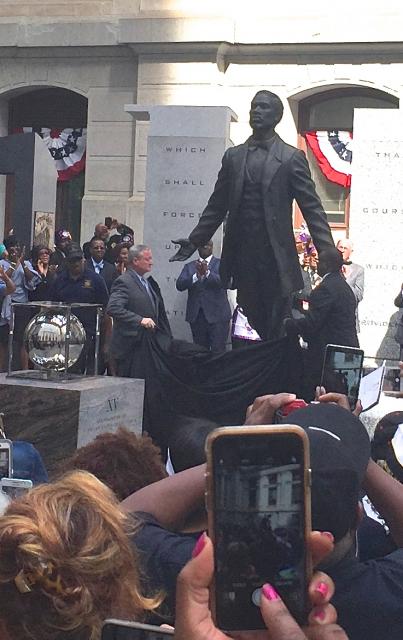 Philadelphia Mayor James Kenny (l) and sculptor Branly Cadet (r) unveil Octavius Catto statue. LBWPhoto

A racist murdered Catto on October 10, 1871 during a riot by whites to keep blacks from voting. During that Election Day riot members of Philadelphia's police department actively aided the rioters – an incident of race-tainted abusive policing. Abusive and too often racist policing persists today.
Catto helped secure Pennsylvania's ratification of the 15th Amendment to the U.S. Constitution, an addition implemented nationally in March 1870 intended to ensure voting rights for blacks, ex-slaves and freedmen then excluded from voting.
Today, conservative legislators nationwide are engaged in various efforts to erect barriers to block voting by blacks. Earlier this year, U.S. President Donald Trump created a Presidential Advisory Commission on Voter Integrity, which critics proclaim a thinly veiled scheme to suppress voting rights. Catto lost his life battling to break down barriers that blocked blacks from voting.
The man who assassinated Catto with gunshots on a busy street in broad daylight was acquitted by an all-white jury during a trial where a defense witness was an ex-police sergeant who himself had been acquitted of fatally shooting a black man during that 1871 riot. Systemic injustice in the justice system continues today.
A police lieutenant in Philadelphia who had encouraged his men to assist the 1871 rioters was fined not fired – a disposition similar to contemporary failures to strongly root out police lawlessness in law enforcement.
President Trump recently lambasted NFL players – particularly black players – who protested against police brutality and other racial deprivations. Trump declared it is unpatriotic for athletes to exercise their First Amendment rights during the National Anthem at football games.
Catto, a star baseball player and Civil War veteran, used his stature as an athlete to advocate for equal rights for all. Catto's activism as an athlete is another historic example that refutes Trump's sophistry that it is inappropriate for athletes to comment on social justice issues.