Buying Homeland Insecurity
America's $50-plus billion annual boondoggle:
Thank god for the US Department of Homeland Security!
Thanks to its $40-billion annual budget, and Homeland Security laws like the PATRIOT Act that Congress passed quickly after the horrific attacks on Sept. 11, 2001 on the World Trade Center and the Pentagon, we have not had a major terrorist attack in the US in the ensuing 16 years.
Oh, wait a minute. My bad.
We have had some major mass murders over the ensuing years, haven't we, including some being officially labeled "acts of terrorism."
There was the sniper shootings of 10 people in suburban Washington, DC back in 2002. There was the execution of 5 Amish schoolchildren in their one-room schoolhouse by a gunman in 2006. There followed the 32 students and faculty killed at the Virginia Tech shooting in 2007, the lone gunman who opened fire at an open-air meet-and-greet session hosted by Arizona Congresswoman Gabrielle Giffords which killed six people and gravely wounded Rep. Giffords in 2011, the 12 killed in the Aurora, Colorado theater shooting in 2012, the Vietnamese immigrant who shot and killed 13 people in Binghamton, NY in 2009, the 20 grade-school kids and a teacher murdered in the Sandy Hook Elementary school shooting, also in 2012, and the Navy contractor and former sailor who killed 13 in a Washington, DC industrial complex, the murder of 9 people in their church in Charleston, SC in 2015, and now this latest killing of over 58 people in Las Vegas. I'm just naming the big ones here, or particularly outrageous one like those that focused on killing little kids.
Thank god not one of these horrible incidents was considered an act of terrorism!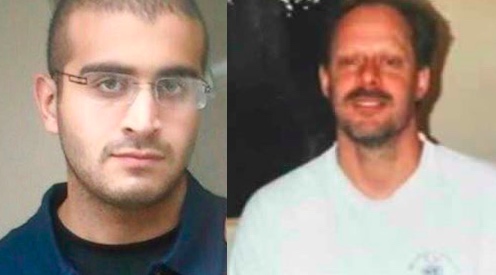 America's biggest mass killers in the past quarter century: one, a terrorist, killed 49; the other, not a terrorist, killed 59. $50 billion a year spent on 'homeland security' didn't stop either one. Both used legally purchased assault rifles

Of course there were some at least nominally terrorist mass killings too — the 2013 Boston Marathon bombing, which killed three or four depending on whether you count the killing of a police office during the later manhunt part of the deal, the 2014 attack at Fort Hood by a deranged Army psychologist who slayed 13 people, the 2015 San Bernardino rec center attack which killed 14, and the 2016 murder of 49 at a disco in Orlando. But in most of these cases the link to organized terror was tenuous at best, and in the Orlando case in particular, which was touted at the time as the worst mass killing in modern US history (at least until this latest Las Vegas incident), the killer appears to have had no connection to ISIS and was probably just claiming a link in order to ensure that he would be killed by police, and not captured (he succeeded in that plan). We know these were acts of terrorism not just because the government calls them that, but because, well, they were committed by Muslims, which for the US government terrorism "experts" means it must be terrorism.