Mandalay Bay: Top O' The World, Ma! (PART ONE)
Aging Baby Boomer Runs Amok in Vegas
Stephen Paddock, the 64-year-old reclusive multi-millionaire who spent much of his "mysterious" later adult life in one-on-one relationships with casino poker machines, is everywhere labeled an "enigma." That's the consensus from every quarter. New York Times reporters put together a sketch of who this guy was.
"Stephen Paddock was a contradiction: a gambler who took no chances. A man with houses everywhere who did not really live in any of them. Someone who liked the high life of casinos but drove a nondescript minivan and dressed casually, even sloppily, in flip-flops and sweatsuits. He did not use Facebook or Twitter, but spent the past 25 years staring at screens of video poker machines."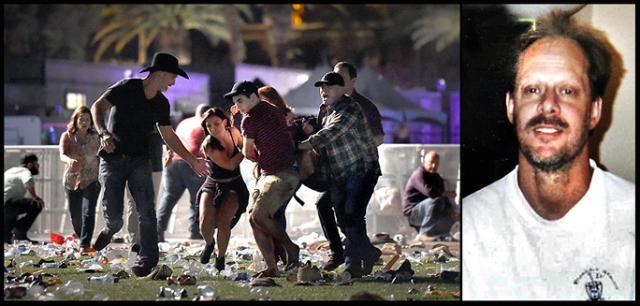 Civilian first responders carrying a wounded victim, and the killer, Stephen Paddock
He had a house in Sun City, Mesquite, one of a number of Del Webb gated, "active adult communities," this one 90-minutes from Las Vegas. Plus, he owned other houses and properties; at one point he owned two airplanes and, to facilitate his lifestyle, bought cheap houses near local airports in Nevada and Texas where he parked his planes. He spent hours and hours as a "high-limit player" working the $100 poker machines in specially designed lounges for such cherished players, distinguishing them from the peasant riff-raff working the dollar machines. He was encouraged to continue gambling with free meals and free hotel rooms. "Gambling made him feel important," the Times reporters wrote. He counted on the attentions of "high-limit hostesses" to get him food and refreshments and to fluff him up when his spirits lagged. He exhibited impatience if these hostesses were slow in delivering what he wanted. Other services were private matters.
Everything was done to cater to Stephen Paddock's needs and whims -- just keep him gambling. He became so close to one of the high-limit hostesses -- Marilou Danley -- she left her casino employment to be Paddock's steady girlfriend, one of the few close human relationships he seems to have had. And it seems to have been a good relationship; he traveled with Danley to her home country in the Philippines for one of his birthdays and met her sisters. His brother Eric has only nice things to say of him; especially, that he was generous. His tenants all told the Times Paddock was fair and responded to all their needs. And, of course, he collected dozens of very expensive, very lethal weapons. In a social sense, he was a misfit and could be curt, but in the very American context of being smart enough to figure out how to exploit the real estate market and to accumulate money and property, he was a winner.