Mandalay Bay: Top O' The World, Ma! (PART TWO)
The Second Amendment Is Not a Suicide Pact
The bulk of coverage of the Las Vegas shooting is about victims, heroes and villains. The really important story that's rarely covered is about how and why guns and violence have become such an absurd part of US culture and why it's so difficult to restrict the easy access to lethal weapons designed for war.
Gun Porn and Male Alienation:
A trip to my local grocery store reveals a magazine rack with dozens of covers showing beautiful models selling a lifestyle that requires what the advertisers manufacture and market. Also on the rack are a half-dozen very slick magazines selling gun culture. There's no other way to describe it; you never see a critical or analytic article. The photography is eye-catching and slick, the models manly and masculine -- except for the hotties holding machine guns, a much loved image. There's a strong focus on the latest versions of the now classic AR-15. The "look" of these magazines can be described only as gun porn. Instead of luscious, naked women spread across a centerfold, the usual cultural understanding of "pornography," in these magazines its images of lethal weapons that trigger the erotic charge. (As explained later, maybe a "thanatotic" charge is more accurate.) I recall back in the 1970s the literary critic Leslie Fiedler, author of Love And Death In The American Novel, giving a lecture at Florida State in which he expanded the term pornography to include things beyond intercourse and engorged genitalia. In his mind, American marketing and pop culture was virtually defined by the term pornography. Pornography was material with little purpose or merit other than to seduce. It's the opposite of what E. F. Schumacher envisioned in the subtitle of his famous book, Small Is Beautiful: Economics As If People Mattered. The gun porn magazine genre makes it very clear there's lots of corporate money at stake stirring up and indulging the market for sexy weapons.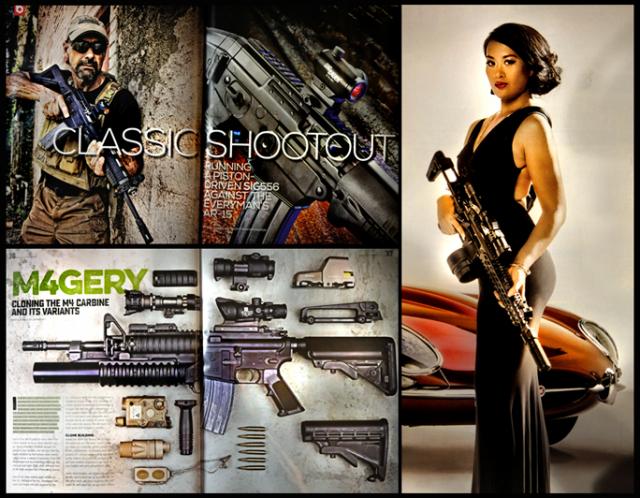 Pages from today's super-slick magazines glorifying the ubiquitous AR15
We're told gun sales are up and rising. Fear is in the air. I recently visited a gun shop in my area that I'd visited last a couple years ago. The number of guns in the place had more than doubled. I've never seen so many hi-tech weapons, a huge proportion of them some version of the ubiquitous AR15, a weapon that began its career as the M16 made famous in Vietnam. As a REMF (rear echelon mother fucker) in 1966, I had an old wood-stocked M14. Infantry soldiers tell us the M16 was notorious for jamming at the worst possible moment. One can imagine the curses in a firefight. Since then, the weapon has been R&Ded to the max and is a favorite of gun lovers everywhere. There's a huge market for accessories of all sorts to trick out one's AR15 so it really looks cool and menacing. Things like "bump stocks" are marketed to turn a semi-automatic rifle into a fully automatic weapon of war. One marketed bump stock sells for $99.