Hollywood, War Trauma and the Rule of Money
A simple human story In tumultuous times

Jason Hall, the screenwriter who wrote the script for the Clint Eastwood blockbuster American Sniper, a well-made piece of hagiographic cinema based on a memoir by Chris Kyle, has made what feels like a corrective on the subject. This time, he's both writer and director of a film that reportedly was initially slated to be directed by Hollywood giant Stephen Spielberg, with Hall as scriptwriter. Whatever inside Hollywood deal-making went down, Hall's efforts have resulted in a beautiful film. There's nothing fancy, large or loud about this film. There are no special effects that you notice. It doesn't traffic in heroics at all. It just feels real.
While it's a very different kind of movie, in a way it's The Best Years Of Our Lives, the great 1946 movie about soldiers returning home from World War Two, translated into the language of Post-9/11 Perennial War. This ain't your dad's or your grandad's war; this is warfare of political choice with a professional, volunteer army and the very human complications that come naturally in the wake of such wars.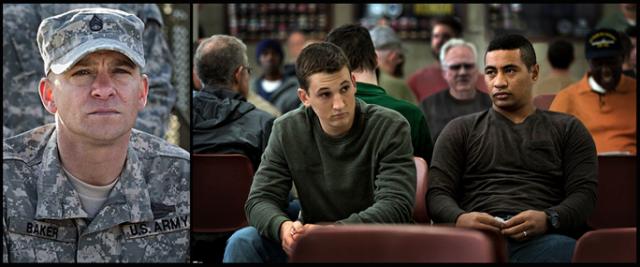 Adam Schumann (as actor); Miles Teller (as Schumann) and Beulah Koale (as Solo) waiting at the VA
Matt Zoller Seitz from Ebert.com, describes the film this way:
The film "has been written, shot, edited and acted in such an intimate and unobtrusive way that the result feels like a throwback to an earlier era of American mainstream filmmaking, when it was still possible to base a handsomely produced feature film around observed behavior, and not feel obligated to safeguard against viewer boredom by shoehorning extra melodrama or contrived genre-movie elements into the mix."
First off, the title -- Thank You For Your Service -- is meant ironically. The story began as a non-fiction book by Washington Post reporter David Finkel, who was awarded a MacArthur "genius" grant for his work. As an embedded reporter on the war in Iraq, he wrote an earlier book called The Good Soldiers. He was moved to write the second book when he began to understand how difficult it was for the soldiers he got to know writing the first book when they returned home from the war. Basically, the story is what happens to Sergeant Adam Schumann and two of his unit-mates when they return to the US and leave the Army. Miles Teller plays Staff Sergeant Schumann and Samoan actor Beulah Koale plays the real-life Samoan character SP4 Tausolo Aieti. Both are excellent in the roles. The real Adam Schumann has a small role in the film.