General Kelly - Historically Ignorant or Hysterically Bigoted?
The events of November 10, 1898 in Wilmington, North Carolina provide added evidence to rebut the recent claim by White House Chief of Staff John Kelly that the U.S. Civil War resulted from a failure to "compromise."
On that Thursday nearly 120-years ago a rampaging mob led by a former Confederate Army officer unleashed the only successful insurrection in American history with the violent overthrow of Wilmington's legitimately elected municipal government.
During that insurrection – allowed to stand by state and federal authorities – dozens of African-Americans were murdered. Insurrectionists ordered hundreds to leave that coastal city including liberal whites the insurrectionists felt embraced blacks by respecting the rights the U.S. Constitution extended to all including blacks.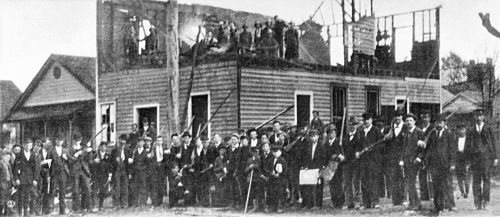 Wilmington insurrectionists burn building of black owned Daily Record newspaper.

Those Wilmington insurrectionists had no desire for compromise because their intent was control through white supremacy. Since those insurrectionists sought to reestablish pre-Civil War total political and economic dominance for whites over blacks, no compromise was acceptable.
The "White Declaration of Independence" issued by those Wilmington insurrectionists asserted whites in that area would, "never again be ruled" by blacks. That Declaration's "never again" phrase was unequivocal evidence the insurrectionists had no desire to compromise.
The stance of those Wilmington, N.C. insurrectionists, cemented in white supremacy, was similar to sentiments of the Confederates who launched an armed revolt against the authority of the United States government in April 1861.
Confederates disregarded an attempted compromise in the form of a planned amendment to the U.S. Constitution that would have barred Congress from outlawing slavery.
Congress approved that constitution changing amendment – known as the Corwin Amendment – weeks before Confederates attacked a U.S. Army fort in Charlestown, SC that started the Civil War. That war stopped the ratification process of the Corwin Amendment by individual states as required by the Constitution.
That failure to compromise claim of Kelly, uttered during a recent interview on FOX News, evidenced extraordinary ignorance of American history from a man who was once a ranking general in the U.S. Marine Corps and/or engrained bigotry in the brain of President Trump's right hand man.
Kelly's failure to compromise claim about the Civil War infers a false equivalence placing equal blame on officials in both the North and South. Evidence is clear that Southerners wanted white supremacy inclusive of slavery on their terms only. Kelly's false equivalence follows in the footsteps of President Trump's August utterance placing blame for the bloody, deadly violence in Charlottesville, Virginia equally on white racists and the counter-protestors.