McMaster of War
Unrealistic war experience leads to Trump advisor overconfidence
This article appears in the London Review of Books

A number of military experts – including the defense secretary, James Mattis – have warned that a US war against North Korea would be hard, incredibly destructive and bloody, with civilian casualties in the millions, and could go badly for US forces. But Lt. Gen. Herbert Raymond McMaster, President Trump's national security adviser, is apparently insistent that 'a military strike be considered as a serious option'.
One of Gen. McMaster's claims to fame is a Silver Star he was awarded for a tank 'battle' he led in the desert during the so-called Gulf War of 1991. As a young captain leading a troop with nine new Abrams M1A1 battle tanks, McMaster destroyed 28 Iraqi tanks in 23 minutes without losing any of his own or suffering any casualties.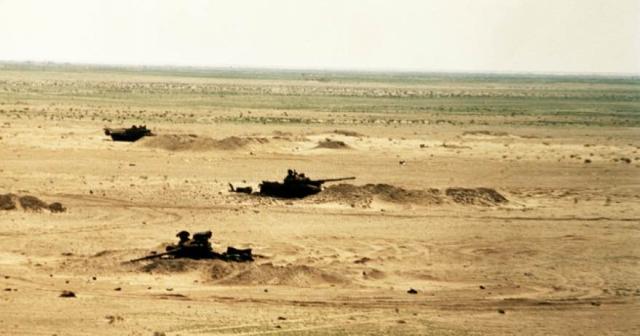 Turkey shoot: Capt. McMaster's vastly superior Abrams tanks were able to destroy these dug-in Iraqi tanks at a distance, out of range of any Iraqi returning fire

McMaster's exploit (later embellished with a name, the 'Battle of 73 Easting') was little more than a case of his having dramatically better equipment. His tanks were several generations ahead of the antique Russian-built T-72s of his Iraqi opponents. They were protected by depleted uranium armour – a dense metal virtually impenetrable by conventional tank shells, anti-tank rockets and RPGs – and carried anti-tank munitions tipped with depleted uranium penetrators, which can punch through steel armour as if it were cardboard. They then ignite a tank's interior, exploding any ordnance inside and incinerating the crew. The Abrams main cannon also has a significantly longer range than the tanks McMaster was confronting, meaning he and his men were able to pick off the Iraqi tanks while the shells fired back at them all fell short...

For the rest of this article in the LRB, please go to: London Review of Books