Learning the Power of Protest, Confrontation and Collective Action, Where Will America's Students Go from Here?
A salute to the kids of the Marjory Stoneman Douglas High School in Parkland Florida!
After experiencing a terrifying attack on their school by a tragically unhinged former student armed with an assault-style rifle who killed 14 of their classmates and three teachers and seriously injured another 14, they didn't retreat into fear and victimhood. Instead they are taking to the streets, taking to buses to the state capital in Tallahassee, and are using social media to organize a national youth campaign to get assault weapons and large-capacity magazines banned.
In refusing to be silenced by the National Rifle Assn. and political charlatans like Florida Sen. Marc Rubio or President Trump, or co-opted by Democratic politicians eager to use the issue of gun control to win points in next November's congressional elections, these students and the tens of thousands of high school kids who have joined them across the country in states blue, red and purple, they have in one stroke revived the idea of mass political action.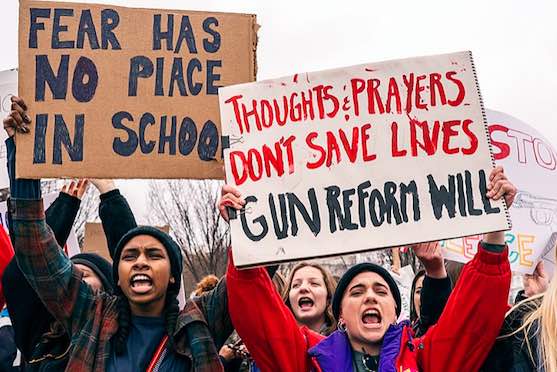 Students from the Marjory Stoneman Douglas High School may have sparked a national student protest movement

These kids are not being polite. When someone like Sen. Rubio or Florida Gov. Rick Scott or the Florida state legislature comes up with an excuse like blaming the shooting on mental illness rather than the easy availability of mass-killing military-style weapons, they shout "BS!" When they're told the answer is to arm teachers, they shout "BS!" When they're accused of being "paid crisis actors" or manipulated, they shout "BS!" And when the Florida legislature insults them by ignoring their mass trip to the state capital to demand a hearing on gun legislation, they mass in front of the statehouse, shout "BS!" and demand to be heard.
The whole political battleground over gun ownership in the US has just undergone a tectonic shift as great as if a 9-point tremor had struck. For the first time in memory, huge corporations like Delta Airlines are abandoning their backing for the NRA, dropping lucrative and once popular marketing discount programs for NRA members on pain of being boycotted — a threat that has even gigantic companies like Apple and Amazon worried. No wonder the NRA had their latest version of spokesman Charlton Heston, Dana Loesh, put out a short ad in which,looking like the Wicked Witch in the Wizard of Oz, she poses in black with a giant hourglass, darkly warning the "lying media," Hollywood "phonies," unpatriotic athletes, politicians who "watch America burn" and late night hosts," that "Your time is running out — the clock starts now."