Are We Living Under a Military Coup?
An Ironically Patriotic Essay

If President Trump is convicted of a crime or is impeached, will he go gracefully like the experienced politician Richard Nixon -- or will he go out like Jimmy Cagney atop a giant gasoline tank in White Heat? "Top O' the World, Ma!" Think of the institution of the presidency as that gasoline tank that goes up in a huge fireball at the end. Translated into the context of Reality TV, think of the narcissistic star-in-chief playing out the final episode under the delusion he's still in control with his i-phone -- to the bitter end stirring up a pumped and well-armed base. Sensationalistic, for sure. But implausible?
The part of this improbable administration that's not a reality TV show centered on a narcissistic billionaire and his plutocrat cabinet is the anchor represented by Chief of Staff John Kelly -- along with Defense Secretary James Mattis and Security Adviser H.R. McMaster. If this were a Herb Block cartoon from the 1970s, they'd be a very stolid rhinoceros standing in the midst of Oval Office wreckage with words on its flank that read NATIONAL SECURITY STATE.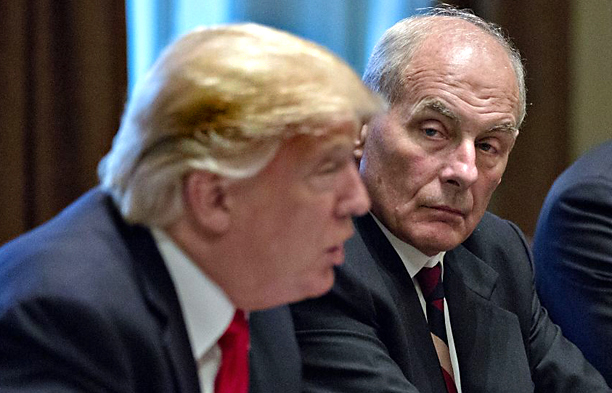 The loose cannon president and his National Security State minder?

The National Security Act of 1947 codified the reality of the imperial American military for the baby-boom generation and beyond. The War Department became the Defense Department; the CIA we know today was formed from the Office of Strategic Services. The 1947 NSA document amounted to a formal re-arrangement of the country's priorities coming out of WWII -- when the victorious United States of America became the "leader of the free world." We forget that before World War Two changed everything, the US military was a shadow of what it was to become.