Historic Recognition For MLK 'First' In New Jersey Moves At Snails Pace
Foot-dragging 'study' questions value of King's first anti-racist lawsuit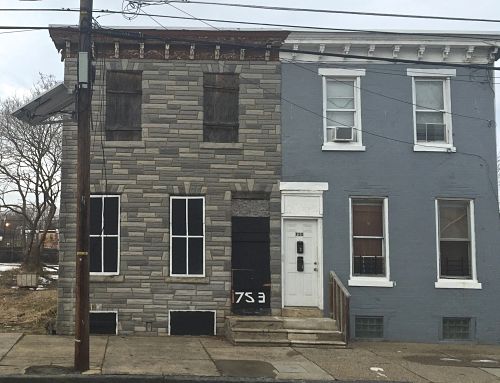 House in Camden, NJ (left) where Dr. Martin Luther King Jr. plotted a protest that produced his first lawsuit against discrimination.

The first lawsuit against discrimination ever filed by Dr. Martin Luther King Jr. – the iconic civil rights activist – is of questionable historic value according to an unusual study released recently by New Jersey state historic preservation authorities.
New Jersey's Historic Preservation Office (HPO) paid $20,000 for the study as part of its review of an application seeking historic designation for a property in Camden New Jersey where Dr. King stayed occasionally while attending seminary school in Chester, Pennsylvania over 60-years-ago.
King, according to new documentation unearthed by a NJ researcher, began formulating the protest that led to his first anti-discrimination lawsuit, while at the 753 Walnut Street Camden property. King was at the house hours before going to Maple Shade, NJ, where a white café owner refused service to King and his three companions in June 1950, chasing them from that café with a gun.
King listed 753 Walnut Street Camden as his address on police reports from that gun toting service denial encounter.
That Maple Shade café incident produced King's first anti-discrimination lawsuit. King, during an October 1961 conversation with news reporters in Philadelphia, Pa, described that incident as a "painful experience."
That study is the first study ever commissioned by NJ's Historic Preservation Office, the office in charge of NJ's Register of Historic Places.
HPO records list 51,825 properties and sites on NJ's historic register, as of February 2018. The thousands of private properties on that historic register were approved without a study like the one conducted on the Camden property, an HPO spokesman noted.
Dr. King had characterized the Maple Shade incident as a pivotal event in the growth of his commitment to civil rights activism. Many biographies and books on King include that Maple Shade incident.
While King was not a nationally known figure in 1950 other persons involved with that Maple Shade incident did have notoriety.
The man who helped King the night of the incident and with subsequent matters was Dr. Ulysses S. Wiggins, then president of both the Camden NAACP branch and the NJ State NAACP. Wiggins had lobbied for passage of the NJ anti-discrimination law King used to file his lawsuit.
King was aware of that anti-discrimination law, the first such law approved by any state in America. King contacted Wiggins through a close friend, a Camden minister. King preached in that minister's church – located near the 753 property – before and after the Maple Shade incident.
The man who provided King and his companions with legal assistance was the lawyer for the Camden NAACP branch, Robert Burke Johnson, who later became a distinguished judge in New Jersey.