Citizens Show Up to Tell a Do-Nothing Government Enough is Enough
800,000 Pissed-Off People Get Themselves to Washington

I have learned one thing. As Woody says, "Showing up is 80 percent of life." Sometimes it's easier to hide home in bed. I've done both.
         - Marshall Brickman, co-screenwriter with Woody Allen of Annie Hall
WASHINGTON DC - The political situation in Washington and around the country is so rotten and demoralizing, so hopelessly polarized, that an outspoken group of high school kids who survived a shooting incident by an alienated lunatic with an AR15 have filled a leadership gap. For this reason, the March For Our Lives in Washington DC on March 24th was like a fresh ocean breeze in a smog event. We're told 800,000 people took time off and made it to the capital city in political solidarity with the students of Marjory Stoneman Douglas High School in Parkland, Florida, where 17 students and staff members were gunned down in just over six minutes on February 14th beginning at 2:20 in the afternoon. In some 800 other cities around the country, similar outbreaks of support occurred on the 24th. And there hopefully will be more to come.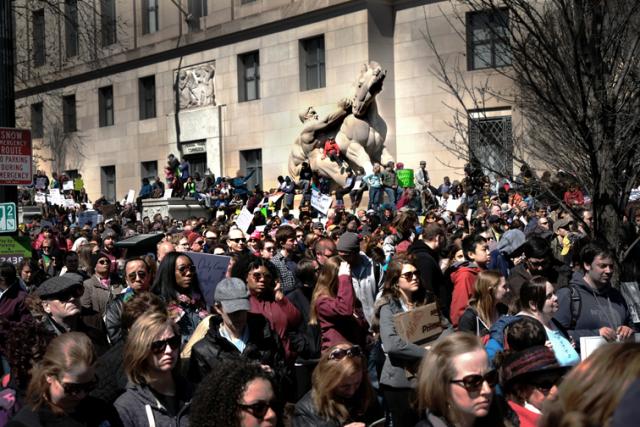 Marchers at the Federal Trade Commission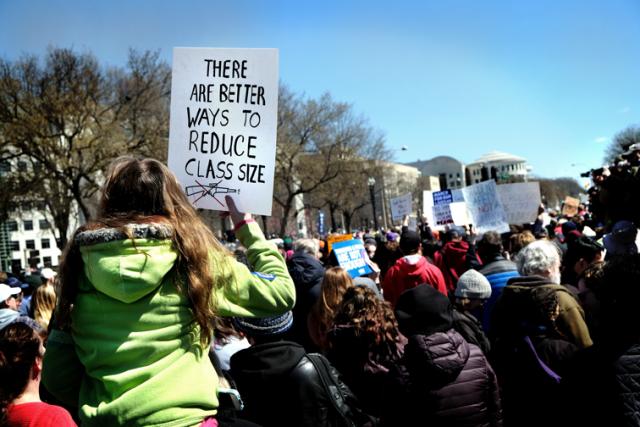 .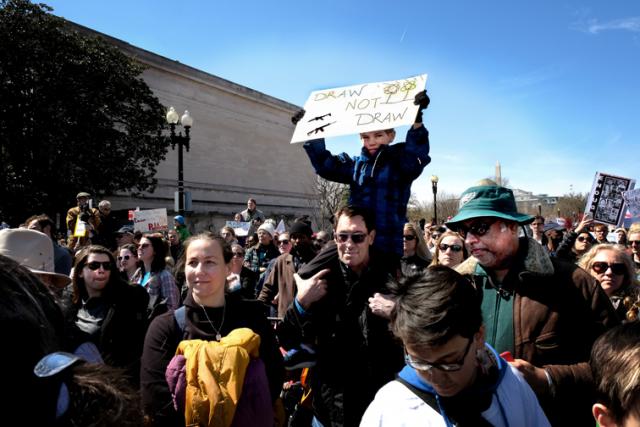 .
For my wife Lou Ann and I, deciding to go to DC was the first decision in the Woody Allen Rule, where 80 percent of life is just showing up. Then, the next step was getting out of bed on Saturday morning early enough to get our logistics together and to collect the two other people who wanted to go along on the trip. We drove south for a bit over two hours (there was little traffic and I have a lead foot) to the New Carrolton Metro station on Route 495. There, we had to figure out the ticket machines and what Metro stop we wanted to join the march, which it turned out was not really a "march" but a giant collection of humanity, packed-in along Pennsylvania Avenue and spreading outward along cross streets.
We had planned on getting off at the Gallery Place stop. Then, we figured the better stop would be Smithsonian. But when the train slowed for L'Enfant Plaza, everyone on the train got up and headed for the doors. What the hell, they must know what they're doing. So like lemmings we followed the crowd. Lou Ann had made signs, blown up and mounted on foam core, and I had screwed and glued the boards to six-foot dowels. Pretty good mobile graphics.