No Indication in the US that the Country is at War Again
Keeping it normal in the world's leading rogue nation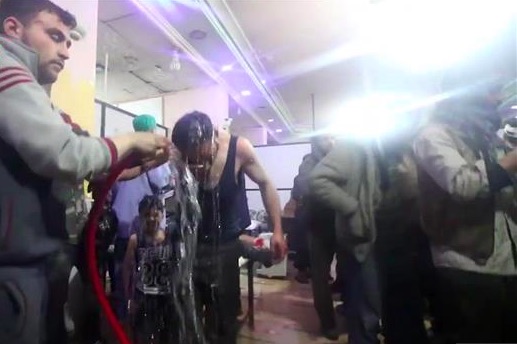 Screenshot of video purporting to show White Helmets treating victims of alleged Syrian chemical attack in Douma on April 7

The response of the American public, save for a few dedicated soulslike those gathered at the City Hall protest in Philly, has been largely ho-hum. Uptown a bit at Temple University, students were strolling around the campus also enjoying the nice weather, some of them completely unaware that their nation had just launched a major attack on another country. There was no sign of protest there either. Indeed, a Google search for protest only turned up events relating to the earlier threats of action or to last year's launching of a smaller cruise missile attack on Syria by Trump. There were protests planned for today, and a few around the country for yesterday, but really one had to look abroad to Greece to find an example of a major protest against the attack on Syria, even though the US was joined by token forces from the UK and France, both members of NATO and the European Union.
We seem to have slipped into a situation like Orwell's 1984 in which the US government can simply say that war is peace, as the Trump administration is currently doing (claiming that it is committed to seeking a diplomatic solution to the civil war tearing Syria apart even as it trains and funds terrorist groups in that country and launches bombing blitzes into its cities), and the public just go about their business as though nothing is happening.
Of course this is nothing new. Even as Trump decries the alleged but unproven deaths of a few dozen "women and children" in the still unproven "gas attack" in Douma, blame for which -- if it occurred at all -- has not been determined, the US has been the primary supplier of weapons, including deadly cluster bombs, and the jets to deliver them, to Saudi Arabia for its now years-long deadly bombing campaign against the people of Yemen, the poorest country in the Middle East. That country's women and children have been dying by the thousands now for several years in this one-sided US-backed war. They're dying both directly from the made-in-America bombs being dropped by Saudi forces, and from an epic cholera epidemic and starvation that are the result of the destruction of the country's infrastructure -- all of this with hardly a murmur of protest from the American people.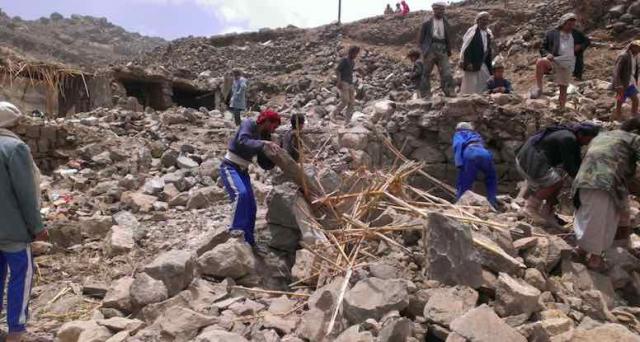 Destruction in Yemen courtesy of US supplied munitions to Saudi Arabia is catastrophic