Philadelphia's Top Cop Defends Indefensible Prejudice in Starbucks Arrest Incident
Ross fails racism test...again
Police Commissioner Ross said his officers had "legal standing to make this arrest" that arose from an apparent prejudicial response by Starbucks personnel who denied a request from the men to use the bathroom. After the men accepted the refusal to let them use the bathroom, Starbucks personnel still insisted that they leave -- a demand rejected by the two men.
While the Starbucks manager cited corporate policy of bathroom access being only for paying customers, an eyewitness told a Philadelphia television station that a white jogger used the bathroom without making a purchase during the same time frame the two black men were denied use of the bathroom.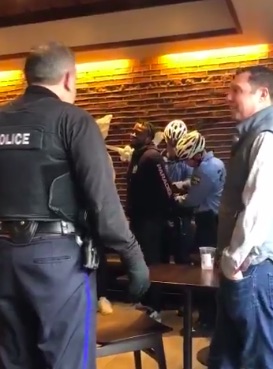 PHilly cops cuff a black patron as the (white) guy he and a colleague were waiting for arrives, demanding to know why the men are being busted (click on image to view video taken by another angry Starbucks patron)

Richard Ross said his officers made that arrest after police "politely" asked the men to leave three times and they refused those commands, giving officers "attitude." Ross said he made the Facebook video statement in order to "put out facts" since he did not think the police version was being "heard."
Ross even played his version of a race-card, stating on the video that as an African-American he is "very aware of implicit bias." Ross' declaration implicitly contended he did not observe racism in either the actions of his officers or the actions of the Starbucks personnel who summoned police.
The reaction of Commissioner Ross to what many nationwide easily see as an incident saturated with repugnant racial prejudice from Starbucks personnel and police has provoked criticism.
"More egregious than the incident itself, is the tone deaf response from the police commissioner. Richard Ross is on the wrong side of history, and his assertion took on a tone opposite of the Mayor, which is telling," Chris Norris said. Norris is a Philadelphia journalist who frequently reports about abusive police practices. Additionally, Norris hosts a popular morning talk radio program on Philadelphia's WURD900AM, one of the few African-American owned talk radio stations in the United States.
"If Starbucks aims to enforce its no excessive loitering policy, then they should hire security guards," Norris continued. "Philadelphia police, who are paid by taxpayers, should not be responding to calls of nonviolent trespassing."
Veteran Philadelphia civil rights attorney Isaac Green, reacting to the actions of Starbucks personnel and Philadelphia police including Commissioner Ross, noted that "according to some, being a young black or Latino male is, by definition, probable cause for the belief that criminal activity is afoot."