Starbucks has a Racism Problem, but the Police, both Racist and Authoritarian, are Worse
Shut up or you're under arrest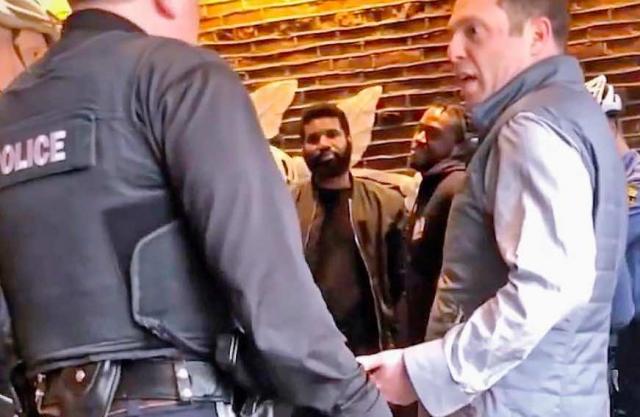 Developer Andrew Yaffee objects to police arresting Rshon Nelson and Dante Robinson (center) waiting to meet him for to discuss a business deal at a Philly Starbucks (twitter vid screen grab)

After the manager called 911 and reported that two men were refusing her demand that they leave her store, Philly's Finest raced to the scene, apparently in force with between six and eight officers converging on the location by car and bike. Most of those who showed up were white, including a supervisor whose presence indicated the cops were expecting trouble.
News reports say the police "politely" asked the two men to leave three times. According to police accounts the officers said the two men responded "defiantly" by refusing to leave. For their part, the two men say the police just came in and told them they had to leave, not making any effort to determine what the issue was. When the men questioned that order, they were then arrested, cuffed, and, without being even read their Miranda rights, were taken to the station where they were held for 8 hours, until 1:30 am when they were released because the city's progressive new District Attorney, Larry Krasner, learning of the case, said there was no evidence they'd committed a crime. According to Lauren Wimmer, a pro-bono attorney for the two men arrested, police had been considering a charge of "defiant trespass" against them.
The "defiant" part means that the accused were challenging the police officer's right to remove them, instead of passively complying with an order to leave the premises. The addition of the term "defiant" to their "trespass" charge could have made their "crime" carry a penalty of anywhere from 90 days in jail and a $300 fine to up to five years in jail. These were not, in other words, minor arrests by the time the police decided to take the two men in.
Significantly, although other patrons stated, and an examination of several videos taken by them of the incident confirms that the two arrested men at no time reacted angrily, threateningly or even loudly to police confronting them, the city's Police Commissioner Richard Ross, in a Facebook video statement released the same day by the department, said "These officers did absolutely nothing wrong…They were professional in all their dealings with these gentlemen, and instead they got the opposite back."