Starbucks & Philadelphia's Bitter Brew of (Police-Sanctioned) Pernicious Prejudice
Cops and coffee shop in hot water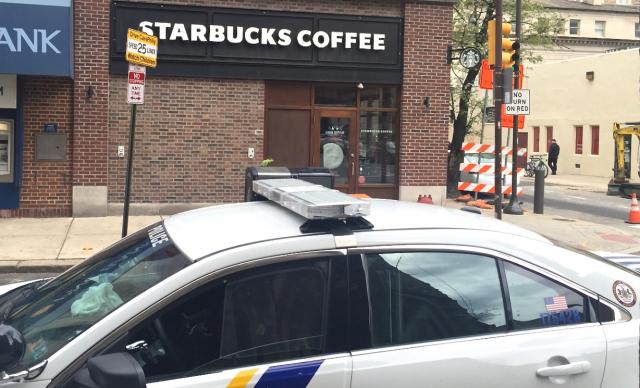 Philadelphia police car outside Starbucks location of infamous 4/12/18 arrest incident. PhotoLBW

Startling Philadelphia Police Department data related to the Starbucks coffee shop location where the flawed mid-April 2018 arrest of two black men sparked outrage internationally shines an unflattering spotlight on tolerance of racial discrimination within the Starbucks corporation and among police in Philadelphia.
This recently released data coupled with other accounts details a year-plus long pattern of discriminatory conduct by Starbucks personnel that seemingly received tacit backing from middle management at Starbucks and by Philadelphia police.
That now infamous April 12th arrest arose when a white manager at a Starbucks location in Philadelphia's ritzy Rittenhouse Square neighborhood called police on the two black businessmen two minutes after they entered the coffee shop to await a scheduled meeting with a white businessman who arrived as the pair were placed in handcuffs.
That Starbucks manager, identified in news reports as Holly Hylton, claimed the two businessmen had defiantly rejected her requests to leave the shop because they had not immediately made purchases. One of the pair had asked to use the shop's bathroom a request rejected by Hylton, who declared bathroom access is limited to paying customers only.
Hylton claimed she was merely enforcing Starbucks corporate policy. However, Starbucks CEO Kevin Johnson, said it was "completely inappropriate to engage the police" because those two men were not creating a "disturbance."
That recently released data – Philadelphia police 911 call logs – list 69 police responses to various incidents at that 1801Spruce Street Starbucks location between January 2016 and April 18, 2018. Those incidents ranged from improper operation of the security system to robbery.
Alarmingly, during 2017, Starbucks personnel at that location called police 28 times to report what police coded as 'disorderly crowds.'
This Philadelphia Police Department data document that after Hylton's reported arrival at that Starbucks location, 911 calls to report disorderly crowds soared.
A former Starbucks employee who worked at the 1801 Spruce location, told London's Daily Mail that Hylton "often targeted" non-white customers for removal from the store.
In 2016, before Hylton's arrival at that location, there were only two 'disorderly crowds' 911 calls.
But during the first four months of 2018 during Hylton's managerial tenure there were five 911 calls related to alleged disturbances at that location.
One of those 911 calls led to the arrest of businessmen Rashon Nelson and Donte Robinson at 4:40 p.m. on April 12, 2018.
Eyewitnesses to that arrest said those two men were not creating any disturbance when Starbucks personnel summoned police, who detained the pair on the charge of defiant trespass. Police held the pair for hours before their release. Prior to that release, Philadelphia prosecutors determined neither Nelson nor Robinson had committed a crime.