Baby-Snatching Practice Blocked Motherhood For 20-million Seconds
Justice system abuses mothers with no apologies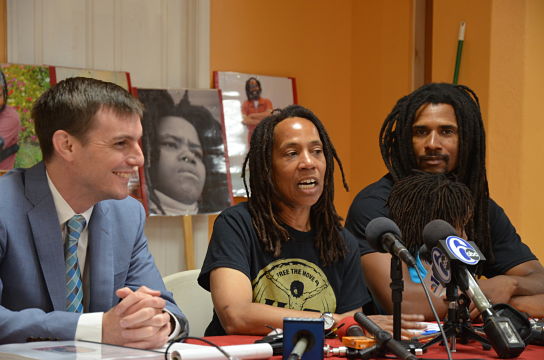 Debbie Africa with son Mike Jr. (right) and lawyer Brad Thomson (left). LBW Photo

The piercing, bone-deep pain for a parent from having their child forcefully snatched away by authorities is a hurt Debbie Sims Africa knows in horrific ways.
The immense suffering some immigrant parents currently experience -- triggered by the child-snatching/ family separation anti-immigration policies pursued by the Trump Administration on America's southern border – is something that impacts Africa very personally.
On August 8, 1978 authorities in Philadelphia, literally snatched Africa's two-year-old daughter from her arms.
A few weeks later when Africa gave birth to her son, Philadelphia authorities snatched him away also.
For more than 39-years Africa could not do what she wanted to do all her life: be a lovingly embracing, nurturing and protective mother.
Those 39-plus years Africa lived with that agony of unfulfilled motherhood are more than 467-months: more than 14,200-days, more than 341,640-minutes and more than 20.5-milion seconds.
On August 8, 1978 Philadelphia police arrested Africa following a shootout between police and members of the radical MOVE organization where a policeman was killed. Africa is a member of MOVE – in fact, a niece of MOVE founder John Africa. (All MOVE members utilize Africa as their last name.)
Africa and eight other MOVE members (five men and three women) were convicted for that Philadelphia policeman's death and sentenced to identical prison terms of 30-100-years.
Recently Debbie Africa, now 62-years-old, won parole release from a Pennsylvania prison – the first MOVE member convicted for that 1978 shootout to leave prison…alive. (Two of the MOVE 9 died in prison.)
Africa, during a press conference following her release, said seeing the cruel separations on the southern border "brought back emotions" for her.
"When I saw that immigration separation on TV, I had a familiar feeling," Africa said, sitting beside her son Michael 'Mike' Africa Jr. during that press conference. "It is totally wrong what Trump is doing. The child did nothing wrong regardless of the parent. It pulls at the heart strings."
The emotions Africa felt watching Trump's immigration enforcement practices palled in comparison to the emotions she felt arising from the reality that she had to leave her MOVE colleagues in prison, including the two surviving MOVE women who shared a prison cell with her.
"I was happy to go home but hurt that they are still in prison," Debbie Africa said, describing how her MOVE member cellmates, Janine and Janet, helped her pack to leave prison. One of the still imprisoned MOVE 9 men is Debbie's husband, Michael.
Debbie Africa said she did maintain contact with her daughter and son (who was born in a prison cell) throughout her 39-plus-year imprisonment. Yet, she noted that sharing a few hours with her children in a prison visiting room is not the same as full-time, real-time mothering.